Calendar
<
March, 2018
>
Coming Soon...
Friday, Mar 23
All Day
Ongoing and Extended Events
5:00 PM
Music: Sounds of the Marianas
6:00 PM
11th Annual Festival of Indian Music and Dance
6:00 PM
Stage: West Side Story
7:00 PM
Stage: Florencia en el Amazonas
7:30 PM
Norouz Festival
7:30 PM
Stage: The Heir Apparent
8:00 PM
Stage: King Charles III
8:00 PM
Music: Japan Nite in San Diego
8:00 PM
Stage: American Mariachi
8:00 PM
Music: Bomba en el Barrio
8:00 PM
Stage: A Jewish Joke
8:15 PM
Music: Ravi Shankar Quartet
Saturday, Mar 24
All Day
Ongoing and Extended Events
8:30 AM
11th Annual Festival of Indian Music and Dance
9:00 AM
International Heritage Styled Shoot -Royal Indian Wedding
11:00 AM
Art: A Treasured Collection of Haitian Art
11:00 AM
Book signing: Newzad Brifki
11:00 AM
25th Annual San Diego Latino Film Festival
12:00 PM
Dance Class: Bomba Class
12:00 PM
International Heritage styled shoot: Filipino Wedding
12:00 PM
Book Signing: How to Make and Save Money while Traveling
1:00 PM
DIY Miso Workshop
2:00 PM
Book Discussion: The Golden Son
2:00 PM
Discussion: The Greatest Knight - William the Marshall
2:00 PM
Stage: The Heir Apparent
4:30 PM
Sports: America vs Xolos
5:30 PM
Tahitian Punch Tasting and Polynesian Dance
6:00 PM
Stage: West Side Story
6:30 PM
Nowruz Celebration
7:00 PM
Dromia: Balkan Music and Dance
7:00 PM
Music: Singing the Ancient Memories of Finland
7:00 PM
Music: Latin Legends 2018 Tour
7:00 PM
Stage: Antigone
7:30 PM
Stage: The Heir Apparent
8:00 PM
Stage: A Jewish Joke
8:00 PM
Stage: King Charles III
8:00 PM
Stage: American Mariachi
Sunday, Mar 25
All Day
Ongoing and Extended Events
8:15 AM
11th Annual Festival Of Indian Music And Dance
2:00 PM
Stage: Florencia En El Amazonas
2:00 PM
Stage: A Jewish Joke
2:00 PM
Stage: King Charles III
2:00 PM
House of Iran: Nowruz Celebration
2:00 PM
Puppetry Festival
7:00 PM
Stage: American Mariachi
Monday, Mar 26
All Day
Ongoing and Extended Events
Tuesday, Mar 27
All Day
Ongoing and Extended Events
7:00 PM
Stage: American Mariachi
7:30 PM
Book Signing: The House of Broken Angels
Wednesday, Mar 28
All Day
Ongoing and Extended Events
10:00 AM
Workshops: Indigenous Folk Art Dish Towel
6:00 PM
Film: The Lady that Vanishes
7:00 PM
Stage: American Mariachi
7:30 PM
Music: Klezmatics with Joshua Nelson
Thursday, Mar 29
All Day
Ongoing and Extended Events
6:00 PM
Stage: Yo Vikings
6:00 PM
Discussion: Woven Women A Discussion with Navajo Weavers
8:00 PM
Stage: A Jewish Joke
8:00 PM
Stage: King Charles III
Friday, Mar 30
All Day
Ongoing and Extended Events
10:00 AM
Stage: Yo Vikings
12:00 PM
Stage: Yo Vikings
6:00 PM
Stage: Yo Vikings
7:00 PM
Stage: Antigone
8:00 PM
Stage: A Jewish Joke
8:00 PM
Stage: King Charles III
8:00 PM
Stage: American Mariachi
Saturday, Mar 31
All Day
Ongoing and Extended Events
11:00 AM
Music: Mariachi Reyna
11:30 AM
Easter Bruch: House of Sweden
2:00 PM
Stage: American Mariachi
2:00 PM
Stage: Yo Vikings
6:00 PM
Stage: Yo Vikings
6:30 PM
Absinthe History
8:00 PM
Music: Tiger Huang with Andrew Tan
8:00 PM
Comedy: Nemr Nassar
8:00 PM
Stage: A Jewish Joke
8:00 PM
Stage: King Charles III
8:00 PM
Stage: American Mariachi
9:00 PM
Dance: Salsa and Bachata Social
Sunday, Apr 1
All Day
Ongoing and Extended Events
12:00 PM
Film: Hibakusha
2:00 PM
Stage: Yo Vikings
2:00 PM
Stage: A Jewish Joke
2:00 PM
Stage: King Charles III
2:00 PM
Stage: American Mariachi
3:30 PM
Cultural Gala at the Vedic Cultural and Spiritual Center
6:00 PM
Music/Comedy: Los Tres Tristes Tigres
7:00 PM
Stage: American Mariachi
Monday, Apr 2
All Day
Ongoing and Extended Events
Tuesday, Apr 3
All Day
Ongoing and Extended Events
6:00 PM
Immigration and Border Issues: The Future Is Not What It Used To Be
7:00 PM
Stage: American Mariachi
7:30 PM
Stage: Soul Doctor
Wednesday, Apr 4
All Day
Ongoing and Extended Events
7:00 PM
Stage: American Mariachi
7:30 PM
Stage: Soul Doctor
Thursday, Apr 5
All Day
Ongoing and Extended Events
2:00 PM
Stage: Soul Doctor
7:30 PM
Stage: Soul Doctor
7:30 PM
Stage: Soul Doctor
8:00 PM
Stage: A Jewish Joke
8:00 PM
Stage: King Charles III
(Book of the Month) — (Book Club)




Buy at Amazon

The Participant Observer Book of the Month is Heart Berries by Terese Marie Mailhot

In a book slender enough to slide into your back pocket, Mailhot tackles waves of intergenerational trauma. She grew up on Seabird Island Indian Reservation in British Columbia. Members of her family passed through Canada's brutal residential school system, which separated indigenous children from their families and cultures, and in some cases, subjected them to physical and sexual abuse… These phantoms speak throughout Mailhot's book — they speak through her.

She began working on the book when she had herself committed after a breakdown. The triumphant result is Heart Berries, a memorial for Mailhot's mother, a social worker and activist who had a thing for prisoners; a story of reconciliation with her father—an abusive drunk and a brilliant artist—who was murdered under mysterious circumstances; and an elegy on how difficult it is to love someone while dragging long shadows of shame.
Keep informed about San Diego Events!
Sign-up for our weekly Eblast by clicking here:
Sign Me Up!
Today's Date
IN PRINT SINCE 2006
Music From Everywhere!

Published By:
International
Book of the Month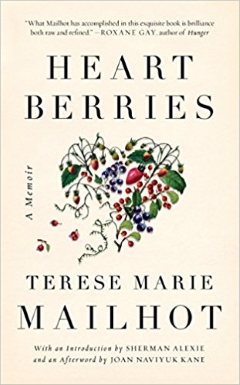 Heart Berries
by Terese Marie Mailhot
Our Staff
Section Editors, Writers and Contributors: Sharon Payne, Ayoolah Folarin, Dolores Donovan, Edwin Ching, Savanna Franklin, Liam Fox, Alexandra Harvey
Copy Editing: Eric Goldman
Associate Editors: Erin Golackson, Cassia Pollock
Photography: Shari Johnston-O'Neill
Editor in Chief: Tom Johnston-O'Neill
Join Our Team!