Calendar
<
December, 2017
>
Coming Soon...
Saturday, Dec 16
All Day
Ongoing and Extended Events
8:00 AM
SD Hmong Community New Year Celebration
10:00 AM
California Ballet: The Nutcracker
11:00 AM
DIY Kimchi & Gift-Giving Workshop
11:00 AM
Lecture: The Evolution of Chinese Weaponry
11:00 AM
Stage: Cinderella Eats Rice & Beans: A Salsa Fairy Tale
12:00 PM
Japanese Pottery Sale & Concert
2:00 PM
Stage: La Posada Magica
2:00 PM
City Ballet: The Nutcracker
2:00 PM
CDM Roots Thailand
2:30 PM
California Ballet: The Nutcracker
3:30 PM
Dance: Odissi School December Recital
4:00 PM
Posada at Border X Brewing
7:00 PM
Yalda Celebration
7:00 PM
Music: Ozomatli
7:00 PM
Stage: La Posada Magica
7:30 PM
La Pastorela de los Alacranes
7:30 PM
City Ballet: The Nutcracker
Sunday, Dec 17
All Day
Ongoing and Extended Events
11:00 AM
Let There Be Light: Hanukkah & Kwanzaa Celebration
12:00 PM
Cooking Class: Una Noche en España
1:00 PM
California Ballet: The Nutcracker
2:00 PM
Music: House of England Winter Concert
2:00 PM
Four Treasures of the Chinese Study Closing Reception
2:00 PM
Stage: La Posada Magica
2:00 PM
La Pastorela de los Alacranes
2:00 PM
B is for Bangkok Storytime
2:00 PM
City Ballet: The Nutcracker
4:30 PM
Festival: Global Winter Wonderland
5:30 PM
California Ballet: The Nutcracker
7:30 PM
California Ballet: The Nutcracker
8:00 PM
Music: Anhuea, Paula Fuga, Mahi
Monday, Dec 18
All Day
Ongoing and Extended Events
8:00 AM
SD Hmong Community New Year Celebration
4:30 PM
Festival: Global Winter Wonderland
6:30 PM
Discussion: One Hundred Years of Solitude
Tuesday, Dec 19
All Day
Free Admission to Mingei International Museum
All Day
Free Admission to Japanese Friendship Garden
All Day
Ongoing and Extended Events
4:30 PM
Festival: Global Winter Wonderland
7:00 PM
Stage: The Meshuga Nutcracker
Wednesday, Dec 20
1:00 PM
Cooking Class: French Macaron
4:30 PM
Festival: Global Winter Wonderland
7:00 PM
California Ballet: The Nutcracker
Thursday, Dec 21
All Day
Ongoing and Extended Events
4:00 PM
Moscow Ballet's 'Great Russian Nutcracker'
7:30 PM
Hanukkah/Solstice Concert
7:30 PM
Film: Fräulein una Fiana D'inverno
8:00 PM
Moscow Ballet's 'Great Russian Nutcracker'
Friday, Dec 22
All Day
Ongoing and Extended Events
4:30 PM
Festival: Global Winter Wonderland
6:00 PM
Special Event: Apna Christmas
7:00 PM
California Ballet: The Nutcracker
Saturday, Dec 23
All Day
Ongoing and Extended Events
4:30 PM
Festival: Global Winter Wonderland
6:00 PM
Russian Grand Ballet Presents "The Nutcracker"
7:30 PM
City Ballet: The Nutcracker
Sunday, Dec 24
All Day
Ongoing and Extended Events
1:00 PM
City Ballet: The Nutcracker
2:00 PM
City Ballet: The Nutcracker
4:30 PM
Festival: Global Winter Wonderland
Monday, Dec 25
4:30 PM
Festival: Global Winter Wonderland
Tuesday, Dec 26
All Day
Ongoing and Extended Events
6:00 PM
Kwanzaa Unity Umoja
Wednesday, Dec 27
All Day
Ongoing and Extended Events
4:30 PM
Festival: Global Winter Wonderland
6:00 PM
Kwanzaa - Kujichagulia: Self-Determination
6:00 PM
Film: The Spirit Of The Beehive
Thursday, Dec 28
All Day
Ongoing and Extended Events
4:00 PM
Book Signing: Sandcastle Girls
4:30 PM
Festival: Global Winter Wonderland
6:00 PM
Kwanzaa - Collective Work and Responsibility: Ujima
Friday, Dec 29
All Day
Ongoing and Extended Events
4:30 PM
Festival: Global Winter Wonderland
6:00 PM
Kwanzaa: Cooperative Economics: Ujamaa
7:00 PM
Stage: Kwanzaa Time
(Book of the Month) — (Book Club)




Buy at Amazon

The Participant Observer Book of the Month is Miss Burma by Charmaine Craig

A beautiful and poignant story of one family during the most violent and turbulent years of world history, Miss Burma is a powerful novel of love and war, colonialism and ethnicity, and the ties of blood.

Miss Burma tells the story of modern-day Burma through the eyes of Benny and Khin, husband and wife, and their daughter Louisa. In Rangoon, then part of the British Empire, Benny, a member of Rangoon's sizable Jewish community, falls in love with Khin, a woman who is part of a long-persecuted ethnic minority group, the Karen. World War II comes to Southeast Asia, and Benny and Khin must go into hiding in the eastern part of Burma. After the family undergoes the fear and danger of the Japanese occupation, it is somehow fitting that their eldest child, Louisa (based on the author's mother), is chosen to represent the Union of Burma when she is crowned "Miss Burma" in 1956. Louisa's mixed-race beauty turns her body into a living symbol of hope and integration in a country that is otherwise falling apart. As Burma slides into military dictatorship and Louisa navigates her newfound fame, she is forced to reckon with her family's past, the West's ongoing covert dealings in her country, and her own loyalty to the cause of the Karen people.
Keep informed about San Diego Events!
Sign-up for our weekly Eblast by clicking here:
Sign Me Up!
Today's Date
IN PRINT SINCE 2006
Music From Everywhere!

Published By:
International
Book of the Month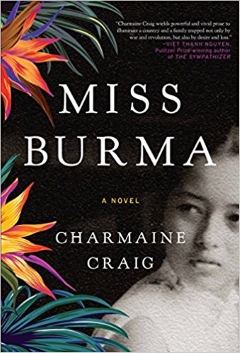 Miss Burma
by Charmaine Craig
Our Staff
Section Editors, Writers and Contributors: Sharon Payne, Ayoolah Folarin, Dolores Donovan, Edwin Ching, Savanna Franklin, Liam Fox, Alexandra Harvey
Copy Editing: Eric Goldman
Associate Editor: Erin Golackson
Photography: Shari Johnston-O'Neill
Editor in Chief: Tom Johnston-O'Neill
Join Our Team!